WORLD IS ONE
(BASUDHEYA KUTUMBAKAM)
Basudheya Kutumbakam is a vedantik thought from Maha Upanishada, which means Whole World is One Family. The basic ideology, message it carries are to feel for whole humanity, connecting hearts, being respectful to all and love all. This powerful thought is having capability to do away with the violence, intolerance and maintain love and compassion among all.
Vivekananda's Philosophy of Universal Consciousness and Universal Love for Humanity, by connecting minds and soul for establishment of peace and bliss in this world spread the message of presence of one soul in all. According to Mahatma Gandhi all the people under the sky irrespective of their caste creed and religion are children of God.
Many international organisations like United Nations, World Health Organisation and voluntary organisation are working continuously for last four decades after the second world war, for establishment of Peace and Justice in the world. Still one third of the population in this globe are living under poverty and struggling for the basic amenities of food, education and good health care. UNICEF has kept the agenda of equity in almost all its strategies and reports aiming to provide human justice to the people. Since last two decades lots of efforts are being made by all the nations to eradicate poverty through different developmental plans and strategies. Sustainable Development Goals of United Nations envisions for an equitable society, where peace, justice and happiness will be major forces driving the humanity.
This Covid 19 has created major disruptions in the world with respect to the nature of job, type and structure of organisation, reporting systems and work places. Life Goals have been shifted from the aspirational to situational and more influenced by environmental factors. The remote working has brought more diversity to the work places with respect to the geographical mix, but the joy of togetherness or working collaboratively and happiness of workplace relationship of sharing responsibilities, challenges are out or the place. It has become more need based and only job centric.
Adam Smith emphasised on grass route leadership to bring pride of happiness of achievement to performers, Taylor emphasises on human efficiency and power of knowledge, Kotler 4.0 focused on human need and aspirations and all of them considered the humanity as a whole. In 21st century, when geographical distance has been reduced by the technological innovations and distance between people and hearts have been minimised by the platforms developed by the leaders of information sciences, which is helping to establish connectivity and understand each other in this world.
For sustenance of this agile world, strong strategies and leadership is required in every sectors and every level and a process is necessary to connect each and every points for a co-ordinated and collaborative development.
World Leadership Academy is developed not only to provide platform to the leaders to stay connected, but to think collaboratively. It has lots of processes inbuilt to serve the humanity starting from the young children in schools and colleges, working group contributing to make the lives and planet better and experienced adults interested in spreading their experiences and realisation to the world.
While today we say trust, empathy, humility and compassion are the core of Leadership, the ancient scriptures talk about universal happiness and wellbeing as follows
Sarbe Bhabantu Sukhina, Sarbe Santu Niramay
Sarbe Bhadrani Pasyantu, Maa Kaschit Dukha Bhag Bhabet
May All be Happy, May all be without Desease
May all creatures have well being And None be in Misery of Any Kind
The core of Leadership to build the lives, to nurture lives with love and compassion and drive lives for achievement of life goals ……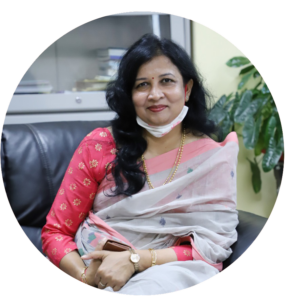 Sasmita Samanta
Prof. Sasmita Samanta is an accomplished academician and administrator with more than two and half decades of experience in strategizing excellence in professional and technical education. Currently she wears the mantle of Professor of Management and Vice-Chancellor of KIIT Deemed to be University.