The quality I would most like to magnify is empathy. It brings us together in a peaceful, loving state.
— Stephen Hawking
Empathy is understanding others'  behavior, emotions, aspirations, dreams, necessity and respond to it in more meaningful way. It is about people we see in and round us. In the way, they live, the way they wish to live, their thoughts, their capabilities to understand and conceptualize the thoughts, their dreams and their strengths to support their dreams. The wishes, capabilities and strengths are related to physical, financial, emotional, and human together.
The literature of post world war II started 1942 onwards,  many authors starting from Henry Green's Caught 1943, Hanley's No Direction (1943), Patrick Hamilton's The Slaves of Solitude  1947 tried to capture the experiences of World War II, about its furiousness and uncertainties for the survival of mankind in the earth. The creativity, which was at stake because of scarcity of printing resources and were demotivated by the destruction of nationalism,  was inevitable during the war. The religious thoughts and beliefs were taking the center place at the midst of cruelty of death. Many new philosophers, novelists and writers like Irish Murdoch, William Golding etc. tried to bring innovative rebuilding thoughts for the humanity. 
At the midst of Covid 19 Pandemic seriously affected humanity struggling for the survival and confused about the relationship among, past, present and  future. The regulated democratic thoughts, influenced by the high speed media, biased interpretation,  and unthinkable experiences are creating literatures for generations. A manmade virus, created in laboratory, shaking the whole world with severity of desease, sufferings, deaths with witty dialogues and power struggle.  The international agencies are regulating the national policies by dissemination of  information about pandemic gathered from multinational sources, without having enough proof about its authenticity, which is not possible at this moment also. 
The directionless communities, increasing social divides, fragmented thoughts managed by misleading information are creating isolated groups in the society. The most powerful social tools like educational institutions, where civilization born, nurtured and get matured through long years of engagement of human being have gone through systematic dismantling of age old processes and new untested processes are culminating and taking the centre place without any past experience and future aspirations. The generation coming out of this pandemic all together a different civilization culturally, socially, religiously and ethnically.
Life dependency on vaccines slowly disconnecting the young thoughts away from nature, its natural warmth and solace of peaceful existence. Thanks to Astrazenica, BioNtech, Johnson and Johnson, Bharat Biotech, Merk, Moderna . Novovax etc. etc., who are trying to save the humanity and building confidence to fight. The inventions of new technologies are making the ways for lives in the earth, which is creating frequent disruptions, because of lack of resilience, naturalism and universalism. What we generally say targeted audience in new discoveries in technology, in business, in policies, acts regulations etc. 
Jamil Zaki of Stanford University says it is a skill which helps us to see others strengths, ideologies, thoughts and accept it in its original form away from the stereotyping ways. He focuses on Cognitive Empathy, Emotional Empathy and Empathetic Concern or compassion. While we are in a professional group and our group mate is struggling to get solution, we understand his problem and help him to find the solution, which is called cognitive empathy, finding solutions for others, second is emotional empathy when we feel for others, crying in sorrows of family, friends and relatives, involving ourselves actively in worries of others, which is compassionate behavior. Jean Decety and Daniel Batsman who are the most empathetic people of the globe and demonstrated empathetic behavior. 
Respecting faith of others is not only sufficient at this point of time, the responsibility is to help the humanity to rebuild the shattered faith and learning to stay connected to this throughout. Creating the peaceful environment around, maintaining natural bliss, engaging people in listening songs, dancing with music, getting happiness from charping sound of birds is the necessity. Reconnecting with nature and natural humane behaviours and reactions.  
Sun is known to provide, light, energy and warmth to the universe, but its power to establish relationship among the members of solar families, deciding its orbits, the movement and existence of humanity is obvious, so it is un noticed. Prayers have power to create, transform and save. Helping others for realization of their own power to do and to have great experience is evitable.
Let us Build ourselves and rebuild humanity…….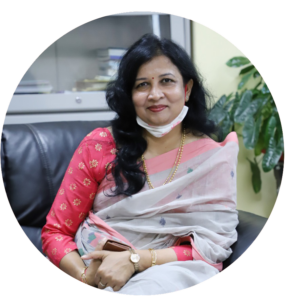 Sasmita Samanta
Prof. Sasmita Samanta is an accomplished academician and administrator with more than two and half decades of experience in strategizing excellence in professional and technical education. Currently she wears the mantle of Professor of Management and Vice-Chancellor of KIIT Deemed to be University.